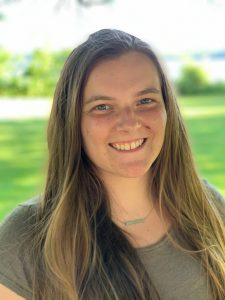 CCE Cayuga County is pleased to announce the hiring of Kim Oswald as our 4-H STEM (science, technology, engineering, and mathematics) Educator. Kim will be providing multiple opportunities for hands-on and engaging STEM activities for our youth.
Kim is a graduate of the SUNY College of Environmental Science and Forestry, earning a Bachelor of Science degree in Environmental Studies. As a student, Kim engaged with the Syracuse community promoting STEM and environmental education through schools, community gardens and libraries. She has also worked as a naturalist at Beaver Lake Nature Center in Baldwinsville, N.Y., as well as in the Sawtooth National Recreation Area in Idaho. Kim is excited to apply her education and experience to create exciting programs for youth in Cayuga County.
Kim also looks forward to bringing her experience leading stream water quality monitoring and lake monitoring to 4-Hers to learn about their local watershed. Kim will bring her experience of working with the Great Lakes Research Consortium to include cutting edge research and findings about water quality, to ensure that her programs are up to date with today's research.
She can be reached at klo55@cornell.edu, 315-255-1183 Ext. 234. STEM Sparks Curiosity