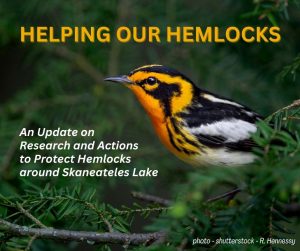 Onondaga Cornell Cooperative, with support from the City of Syracuse, hosted a presentation on February 22nd sharing research and actions focused on protecting Hemlock trees in the Skaneateles watershed and across NY State from Hemlock Woolly Adelgid (HWA), an invasive insect that kills Hemlocks.
Link to presentation:https://youtu.be/pjGdTfdnpwU
The NYS Hemlock Initiative shared research updates on HWA, including different biocontrol options. The program also provided an update on the independent work of both Skaneateles Lake Association, and Onondaga County Soil and Water Conservation District in treating Hemlocks in high priority steep ravines in the Skaneateles watershed, on both public and private property.
As a "foundation" species, hemlocks play a critical ecological role, providing many ecosystem services including protection of water quality. The Hemlock Woolly Adelgid is an insect native to Asia that lives and feeds on Hemlock trees. HWA infested trees typically die about 6-20 years after infestation.