This is an urgent request – please reply if you can assist!
The Cayuga Lake Watershed Network needs your help checking shoreline and dock areas for hydrilla, around Cayuga Lake, from October 19 – 31.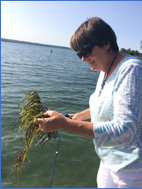 In recent weeks, hydrilla infestations have been found at new sites around the southern third of the lake, most recently at the marina in Lansing and near the mouth of Cayuga Inlet in Ithaca.
Right now is the time hydrilla makes its presence known visibly at the water surface. They need a team of people checking the shoreline, around their docks and launches, and in shallow water from October 19-31 (or later, if interested).
Could you help? It would take one to two hours of your time on one or two dates of your choice.  The Cayuga Lake Watershed Network will provide you with lake rakes and hydrilla i.d. kits and collection bags and give you simple instructions on how to report suspects to invasive plants experts.
If you are interested, please let them know – quickly! Contact Jenn at programs@cayugalake.org 
This is a serious situation – hydrilla is beginning to show up in new and unexpected places. We do not want to it to spread. Help find it early, before it takes hold and expands rapidly.
PLEASE help – just this once, or on a regular basis.
More information about hydrilla, the top aquatic invasive plant: http://www.dec.ny.gov/docs/lands_forests_pdf/hydrillafs.pdf
For more information on the Cayuga Watershed Nework:  www.cayugalake.org