Lake Como is a small, relatively shallow lake in the Town of Summerhill, located in the Oswego-Seneca-Oneida River Basin, south of the Seneca River. It is an upland lake, formed in the upper portions of the Cayuga Lake Fall Creek sub-Watershed. It is part of an extensive wetland system. Two unnamed tributaries (rivers or streams flowing into a larger river or lake) enter Lake Como in the north and the water flows from the lake via the Lake Como Outlet in the south.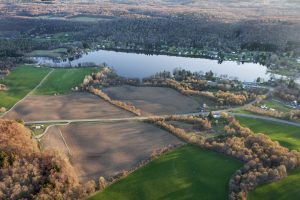 Lake Como Physical Features
Elevation: 1309 feet
Area: 0.11 square miles
Shoreline Length: 1.7 miles
Length: 0.6 miles
Maximum Depth: 20 feet
Mean Depth: 10 feet
Towns adjacent to the Lake: Summerhill
Lake Como Watershed Features
Area: 4.4 square miles
Counties: Cayuga
Towns within the watershed: Summerhill, Sempronius, and Locke
Villages within the watershed: None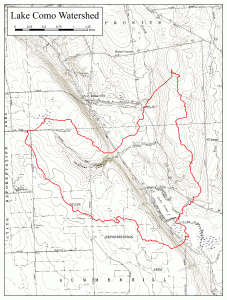 Lake Como Initiatives
The Lake Como State of the Lake and Watershed Management Plan was developed in 2007.
Groups involved with protecting Lake Como
Lake Como Association: contact Pjmooney47@yahoo.com for more information.
Additional Resources
New York State Department of Environmental Conservation Waterbody Inventory/Priority Waterbodies List